Joe Jonas And Sophie Turner Adopt New Puppy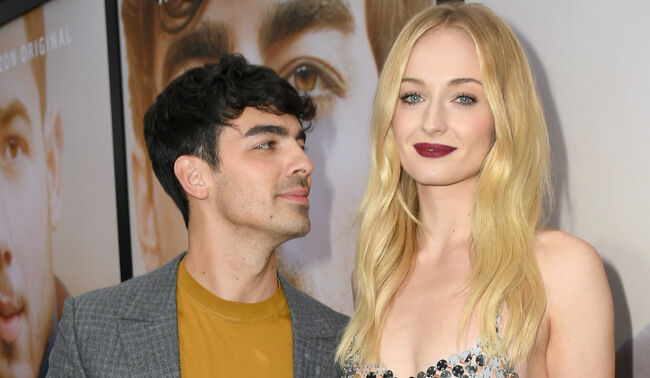 Newlyweds Joe Jonas and Sophie Turner were spotted cuddling with a new puppy on social media! Following the tragic passing of their beloved dog Waldo Picasso, it seems they've expanded their family with this adorable furry addition.
TMZ reported that Joe and Sophie, accompanied by Nick Jonas and Priyanka Chopra, were spending some time with the pup at a vacation home in Miami on Saturday. Photos appear to show Turner giving the golden retriever a bath in the home's pool. She's seen walking and holding the soaking wet puppy away from her with extended arms, presumably to not get wet! See the cute pics HERE.
Fast eyed fans also got an additional glimpse of the newest little Jonas by paying attention to Nick's Instagram story. Upon arrival in Miami on August 2nd with Sophie and Joe, the "Chains" singer recorded a dance performance in the airplane hangar meant to welcome them to the Floridian coastal city. Quickly in the beginning Sophie can be seen stepping off the plane and cradling the pooch.
As of now, Joe and Sophie have not shared the puppies name.
While the addition of a dog into a loving family is always good news, it comes weeks after reports of their previous pet's passing. Their Alaskan Klee Kai Waldo was being walked in Manhattan, NYC last month when he was unfortunately hit by a car. Per TMZ, the dog became spooked by a pedestrian and although he was on a leash, he ran out into the street. An oncoming vehicle then hit the dog.
Photo: Getty Images