Carrie Underwood Shares New Video That Will Motivate You To Workout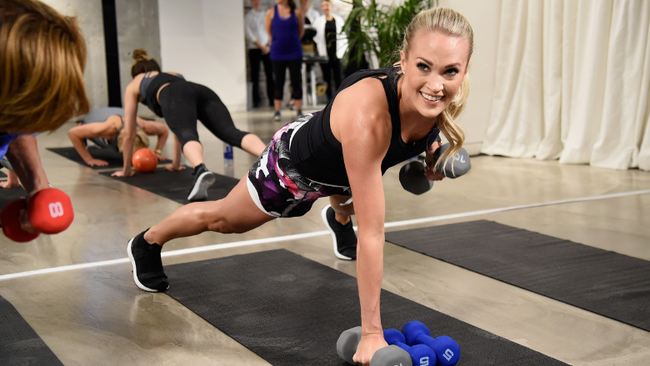 Carrie Underwood is known for her powerful singing voice and the overall success she's had in country music over the years. However, in addition, she's also been noted to always be in great physical shape. Specifically, her toned legs, are a stand out feature of hers. She'll show them off on stage or on the red carpet, making the point that you're never too busy to get in a quick workout.
Recently, Underwood shared a video on her Instagram page to promote her CALIA line of fitness wear. "It isn't easy to stay the path," Underwood says in the video. "But I lunge. I jump. I pull myself up. Today, tomorrow and the next. I don't just do it for my big show. I do it for myself. This moment right here, and the one after that."
The video show footage of Underwood going through a few of her exercises including box jumps, heavy dumbbell presses, and battle rope exercises. The "Love Wins" singer clearly is a motivated individual who aims to achieve a healthy lifestyle. However, even with her level of determination, it's sometimes nearly impossible to find the time to workout. Between traveling for her career and being a mother of two boys, Isaiah and Jacob, life occasionally gets in the way of a workout.
Underwood opened up to Good Morning America about the challenges she's faced getting back into the swing of things following the birth of her second child. "It takes a while to feel like yourself again," she shares. "I get frustrated because I have high expectations for myself. And after having my second child, going into the gym when I got the clear from my doctor, doing a push-up was way harder than it was not too long ago." Despite the challenges, Underwood still perseveres and does her best to achieve what she can in the time that she's given.
In just a few more weeks on September 10, Underwood will kick off the second half of her "Cry Pretty Tour" in San Diego, CA. Joining her on the road will be special guests, Maddie & Tae and Runaway June. Get your tickets to an upcoming show near you here.